Update: Bewildering Technology Landscape — it's Worse Now!
Over four year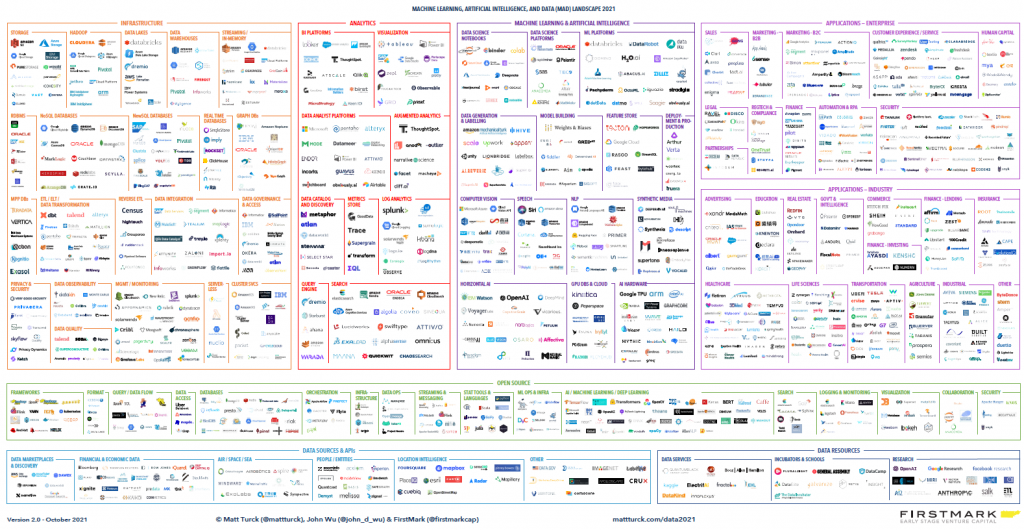 s ago we commented on "bewildering technology landscapes".    Matt Turck from Firstmark Capital has produced these landscape charts for a number of years.  And these can be "eye charts" in the sense that, visually, it's a myriad of logos packed into a small space.
Our opinion back then was that, by now, with consolidation, start-up flame-outs, and the natural progression of the Gartner Hype Cycle,  these charts would be simpler.
We were wrong.  The image in this blog post is still an eye chart.
How does one keep up?  We all want to be current and avail ourselves of the benefits of newer technologies.  The team at First Analytics is hands-on oriented.  We'd rather get our hands on the software than sit through a demo.
Fortunately, many of these vendors allow this now.  And some of these are open source technologies, making an evaluation easy.
We offer our Collaborate Analytics Lab service, where our clients can kick the tires on new software, with our support.  But setting up sandboxes, many with pre-configured data science images, is something that can be done with the major cloud providers.  And in most cases, you do not need IT support from your company, which is often the barrier to trying something new.
This time we will not make the assumption that things will ease up in the coming years.  But with specific use cases and associated data in mind, and the ease afforded in creating test environments, putting the claims of these technologies is more accessible.