Journal of Business Forecasting Article on Hybrid Hierarchical Forecasting
The Spring 2023 edition of the Journal of Business Forecasting features an article co-authored by First Analytics and The Hershey Company.  It shows compelling accuracy results by focusing on some novel hierarchical forecasting methods.
From the abstract:
Forecasting is traditionally done at a particular level of aggregation—top-down, middleout, or bottom up—depending on the data available and the purpose of the forecast. This article is a case study of how Hershey's and First Analytics reimagined the process, adopting a hybrid approach. We experimented with moving beyond the standard business hierarchy of product and location, etc. to an analytics focused, data-driven hierarchy that examines similarities across all the SKUs within the business, incorporating both Time Series and unsupervised learning models. The improvements in forecast accuracy with this approach are significant, offering companies a valuable addition to their forecasting toolbox.
A high-level overview of the methodology is shown here: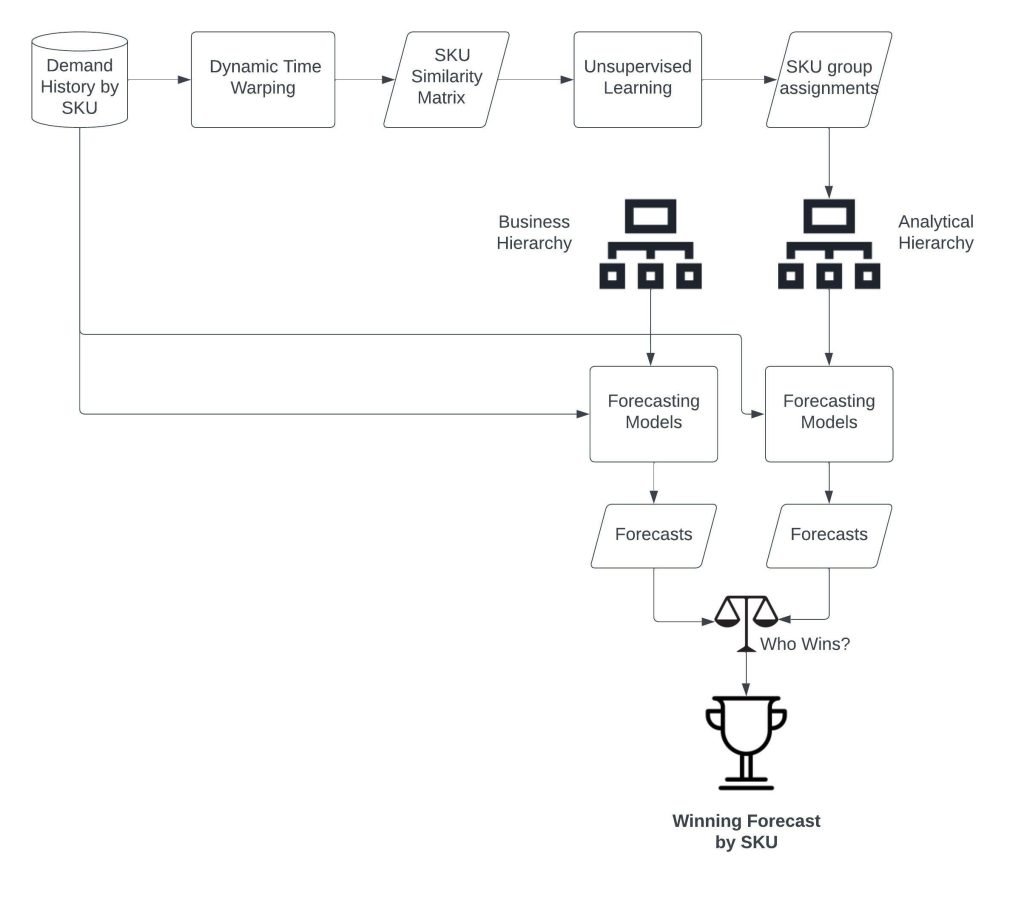 Though we cannot share the entire paper (please subscribe to the JBF for access), we can report the results of the study here:
Using this blended forecast and a traditional two period lag, we found that we had improved forecast accuracy from the traditional approach at an enterprise level by 2.74 points of Weighted Mean Absolute Percent Error.
This article comes out at nearly the same time as some other collaborative work with Land-O-Lakes.  That work was presented at the IBF Predictive Business Analytics and Forecasting Conference.
First Analytics has extensive experience in forecasting generally, and in particular, with sales and demand planning.  We are always looking to apply the most innovative techniques that arise.