ChatGPT's Take on Railroad Performance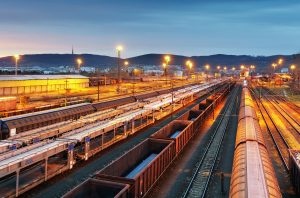 At First Analytics we have been using Generative AI tools, such as Large Language Models, to enhance our own productivity.  Exercising caution is necessary, as we discussed in this June co-presention.
With extensive work in the rail industry, we are always trying to look at the big picture and foresee how the railroads are doing generally.  See some examples of posts on our blog here.
Wayne Kennedy, an industy consultant to First Analytics, has decades of experience working in the rail industry.  He monitors and takes notes for Class I railroad quarterly earnings calls.  We fed his notes to ChatGPT v4, and within seconds, it came back with this pretty very accurate summary.
We share this (1) as an example of how Generative AI can serve as smart assistants (when they get it right), and (2) to provide this outlook regarding the challenges and opportunities the rail industry is facing in the close of 2023 and into 2024.
Here is ChatGPT's summary of the notes:
Based on the summaries you provided, here's a brief analysis of how each railroad is performing:
1. Union Pacific (UP):
– Challenges: Flat fuel efficiency, a 10% decrease in revenue, a drop in carloads, and RTMs (Revenue Ton-Miles) significantly down.
– Positives: Beat earnings per share estimates, improvement in operating and safety metrics, plans to streamline management, and potential for improved fuel efficiency in the 4th quarter.
– **Verdict:** Struggling in some areas but has strategies in place that could lead to improvement.
2. CSX:
– Challenges: Worsened fuel efficiency, decline in intermodal carloadings and revenues.
– Positives: Strong customer service, improving sequential trends, impressive intermodal trip plan compliance, and focus on controllable aspects like safety and efficiency.
– **Verdict:** Facing challenges but seems to be on a relatively good path with strong service performance.
3. Canadian National (CN):
– Challenges: Marginal improvement in fuel efficiency, revenue decrease due to lower demand for freight.
– Positives: Organizational restructuring for better execution, strong position for incremental operating leverage, and confidence in future profitable growth.
– **Verdict:** Mixed performance, with some struggles but also potential for future growth.
4. Norfolk Southern (NS):
– Challenges: Worsened fuel efficiency, technology outages, volume decrease, and significant costs related to the East Palestine derailment.
– Positives: Recent uptick in volumes, new services for customers, and initiatives to reduce supply chain GHG emissions.
– **Verdict:** Struggling with several issues but showing signs of recovery.
5. Canadian Pacific Kansas City (CPKC):
– Challenges: Slight worsening in fuel efficiency, softer demand environment, supply chain impacts, and adjustment of 2023 guidance.
– Positives: Focus on improving operations in the southern tier, strong position in the Mexico market, and emphasis on safety and efficiency.
– **Verdict:** Facing challenges but with specific areas of focus that could lead to improvements.
General Industry Observations:
– Revenue, Operating Ratio (OR), and Earnings Per Share (EPS) are down for all railroads.
– Fuel efficiency and locomotive productivity are general industry-wide concerns.
– Safety metrics are generally improved, but there's a possible trade-off with service performance.
Conclusion:
Most railroads are facing challenges, particularly in terms of fuel efficiency, revenue, and OR. However, they also show strengths in specific areas such as customer service, safety metrics, and strategic focuses that could lead to future improvements. The situation appears mixed, with each railroad having its own set of struggles and paths forward.